The RAF on Diego Garcia in World War Two
In August 1945 a number of British newspapers published accounts of the 'secret' air base established on Diego Garcia. They reported that during the preceding four years "relays of 'Robinson Crusoes' of the RAF have been living in six month spells the life of the beachcomber, far from civilisation". The Chagos archipelago, located halfway between Ceylon and Madagascar, served in World War Two as "one of a chain of forward flying-boat bases spread across Japanese submarine routes through the Indian Ocean". Diego Garcia, the largest island of the group, was considered "one of the most strategically placed air bases to launch flying-boat strikes against the U-boats which might try to escape to Japan."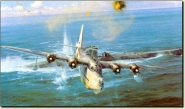 In the summer of 1945, a couple of journalists flew in to Diego Garcia aboard a Sunderland flying boat carrying out the weekly mail and supply run from Ceylon. The pilot was 34 year old Flight Lieutenant Arthur White, of Petersfield, Hampshire. He had been a store manager at Bexley Heath before the war. His co-pilot was Flight Lieutenant George Chilvers of Forest Hill, London, and the navigator was Flight Sergeant Andrew Muir, of Glasgow. The Sunderland carried a crew of ten and eight passengers, including the island's commanding officer, a Congregational padre, who was to hold the first RAF service on the station since VE night, a doctor, a catering officer, an Air Ministry official, an RAF newsreel cameraman, a Public Relations Officer, and another journalist – a war correspondent.
The newspaper described the lifestyle of the fifty airmen who resided on Diego Garcia at this time as follows:
Shorts and sandals are all the uniform they need. Every day, when their routine work is done, they bathe from the jetty in the crystal water of the lagoon. They also spend languorous hours fishing at 40 feet depth for grotesque multi-coloured tropical fish. In this malaria-free paradise they harpoon squids, keep watch for six-foot sharks and stinging rays, overturn turtles or their eggs, and gather the plentiful fruit. Then they watch giant land crabs scuttling up palm trees and cracking coconuts with their pincers. They wander on the strand in search of coral fragments and bizarre shells to make necklaces for their girls at home. In the evenings they see gorgeous tropical sunsets flame across the sky behind the ever-green palm tree belt.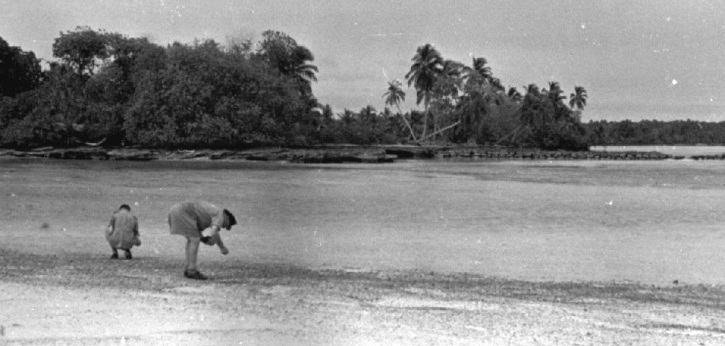 The RAF beachcombing on Diego – courtesy of www.zianet.com
At this time, the commanding officer on Diego Garcia was 29-year old Squadron Leader George Huxford, of Ashford, Middlesex. He was the Catalina pilot who, in July 1944, first sighted the survivors of a torpedoed ship after they had been afloat in open boats for more than five days. Navy frigates were called to the spot, and the people in six of the seven boats launched were picked up. On the wall of the RAF mess some of the 137 survivors, two of them women, scrawled their signatures when they were celebrating being rescued.
Huxford was succeeded in command of Diego Garcia by Flying Officer Hayward Hodgman of Liverpool, who was assisted by Flying Officer George Forrest of East Sheen, to run the maintenance force.
We would love to hear from anyone who served on Chagos in World War Two and who can add photographs or anecdotes to this page. Please write to us at info@chagos.info.
——————————————————————————————-
(c) www.chagos.info