The Marie, Alexis, Bidot and Rabourine families of Boddam
Zélida Marie was born on the island of Boddam, in the Salomon group on the 21st August 1922 at 4 pm in the afternoon.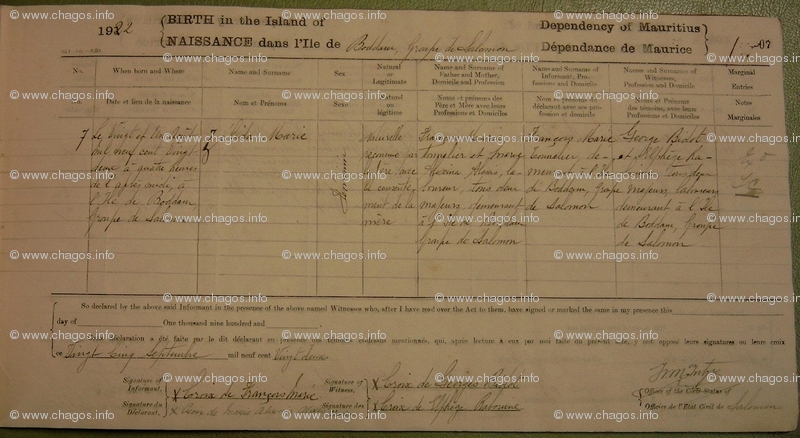 She was the daughter of François Marie, a cooper and Marie Alexina Alexis, a labourer both living on Boddam. The witness were George Bidot and Elphège Raborine, both labourers. All  signed the register with a cross, indicating that they were illiterate.
The only signature on the document was that of Mr McIntyre, the civil status officer of Salomon.
Later that same year, the Rabourine family celebrated the birth of one of their own when Louis Arthur was born on 26th November. He was the son of Victor Rabourine and Marie Angéline Baptiste, both labourers on Boddam. A further member of the Raborine family acted as a witness to the birth – he was Victorien, a commandeur. The second witness of Volcy Ciatouche, an artisan. The latter may well be an ancestor of Clément Siatous, the well known artist, given the similarity of the names, some of whose paintings appear elsewhere on this site.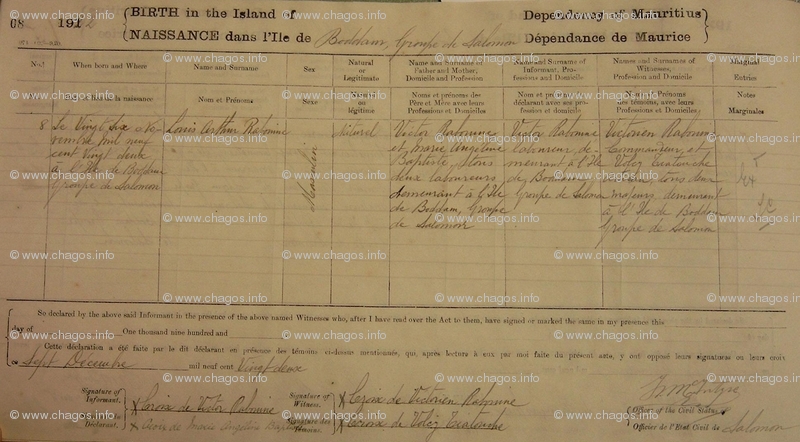 © www.chagos.info